Season Ends with All-Star Game

Updated Nov 18, 2013
Last crew of the season from the All-Star game on November 7 at Duluth East-Ordean High School...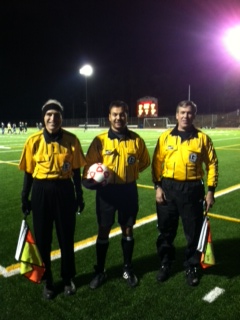 End-of-Season Scholarships and Team Awards Announced

Updated Oct 18, 2013
LSSRA has finalized the annual end-of-season awards for 2013. In the 10th year of the LSSRA Fair Play Scholarship, this year's winners are Fredy Benish of Proctor and Hailey Hoff of Hermantown. Fredy is the third Proctor player to win the boys scholarship and the first since 2010. Hailey is the third Hermantown girls player to be awarded the scholarship, and the first since 2008.
This is the 12th year of the Team Sportsmanship awards. This year's winners are the Hermantown boys, coached by Dave Thompson, and the Marshall girls, coached by Matt Whitaker. The Hermantown boys last won the team award in 2008, while the Marshall girls won for the third time, the last time being 2011.
LSSRA Fair Play Scholarship and Team Award History
LSSRA Members Get State Assignments, MSHSL Recognition

Updated Oct 20, 2013
With the local high school season over, LSSRA has its annual list of end of season state assignments to announce:
State Assignments
Hagi Ozdemir: Quarterfinal and State Championship AR, Class A Boys
Sue Bennett: Semifinal, Class AA Girls Semifinal, Quarterfinals Site Supervisor
Andrea Tobias: State Championship AR, Class AA Girls
Bill Hoene: Quarterfinal AR
Jeremy Uecker: Quarterfinal and State Championship Center, Class AA Boys
Sean Parker: 3rd Place Center, Class AA Boys
Pete Glitsos: 4th Official for two quarterfinals
Jerry Sillanpa: 4th Official for two semifinals
Doug Marshak: 4th Official for two quarterfinals (declined due to other committments)
Phil Lind: Quarterfinal AR (declined due to injury)
Additionally, MSHSL recognized Phil Lind for 20 years of service, and Don Walters and Dean Grace for 10 years of service.