2016 Boys All-Star Game Officials

Updated Nov 10, 2016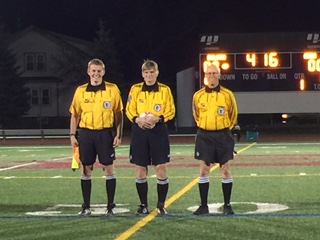 Congratulations to the crew of the 2016 Boys All-Area All-Star game: Bill Hoene, Marc Lane, and Phil Lind.
2016 LSSRA Fair Play Awards Announced

Updated Oct 23, 2016
LSSRA has released its 2016 scholarship and team award winners for the high school season...
The individual scholarship award for the boys was a split vote this year, going to Parker Bjorlin of Hermantown and Jay Boder of Cloquet. With the vote tied, we decided to split the award evenly between two deserving recipients. The girls' scholarship goes to Rachel Hammond of Cloquet.
The team awards this year go to Superior High School for the boys, coached by Otto Berti, and Esko High School for the girls, co-coached by Nicole Peterson and Alissa Anderson.
Congratulations to all of our award winners for 2016!
MSHSL Service Awards for Matt Gottwald and Hagi Ozdemir

Updated Oct 13, 2016
In its most recent Bulletin, MSHSL honored a pair of LSSRA members for 10 years of service,: Matt Gottwald and Hagi Ozdemir. Congratulations to both for your dedication and service!